4 tags
2 tags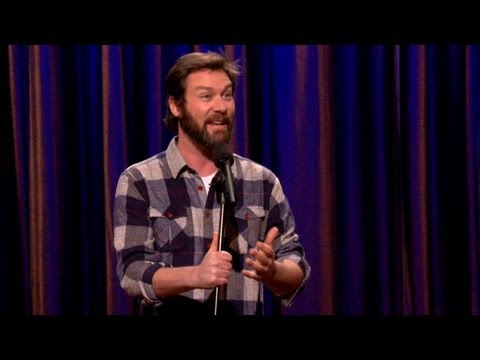 4 tags
Jon Stewart reveals all to Stephen Colbert live on...
Stephen Colbert interviewed Jon Stewart at the Wellmont Theatre, Friday night, a fundraiser for the Montclair Film Festival. Among the highlights of the two-hour talk: Stewart almost quit the Daily Show early on after a disastrous writers' meeting. Colbert explained his past sleepwalking problem, which once culminated in an awkward this-isn't-what-it-looks-like moment with his...
2 tags
Colbert's urinating squirrel story: the real... →
The real "tail" behind John Hodgman's third-hand account of Stephen Colbert repeatedly embarrassing himself in public.
So two Comedy Bars walk into a scene… →
Two bars, two cities, one suspiciously identical concept.
1 tag
Review: Eddie Izzard's Work In Progress →
"In keeping with his reputation as a comic who plays to the top of his intelligence, Eddie Izzard had no need to actually tell his Toronto audiences that he was working on new material. We understood: he's playing to about 100 people at Comedy Bar, for $30, and he has a new tour coming up in the spring. No announcement that hey guys, some of this might not totally work required. But almost...
1 tag
4 tags
Matt Mira's Dave Matthews Band Nerd-Out, Part 1 →
Almost anything can be nerded out about on the Nerdist Podcast. Almost. Poor Matt Mira. All he wants to do is openly love Dave Matthews Band. But can he? No. The relentless mocking from Nerdist Podcast cohorts Chris Hardwick and Jonah Ray makes it impossible for Matt to get any further than a simple mention of his favorite band.
1 tag
JFL42 final dispatches Pt. 1: Louis CK at the Sony... →
He's reached a point of accepting his body's flaws, not caring any longer that his vessel could use some work. "I have a job, and I get laid, and I'm doing it with what most people would say is a disaster," he said. He talked about having gratitude for even having a body at all, and slammed the marketing of a face cream that promised removal of laugh lines, therefore eliminating "any evidence of...
3 tags
1 tag
JFL42: Pete Holmes →
"Holmes has the added bonus of always seeming joyful about life in general, and an audience can't help but be pulled into that. Who needs cynicism in comedy, anyway?"
1 tag
1 tag
1 tag
2 tags
"The stuff in the movie that you wouldn't think is real is real, and the stuff..."
– Mike Birbiglia Review: Mike Birbiglia's Sleepwalk With Me
1 tag
Review: Dave Chappelle in Toronto →
Six years after his last visit to Toronto, it was an older and wiser Dave Chappelle, performing in front of an older and wiser audience at Toronto's Winter Garden Theatre on Monday night. Counteracting the frenzied standing ovation that greeted him, Chappelle delivered in a calm, measured tone, giving the sense that if it somehow did turn into one of those infamous multi-hour marathon shows, it...
1 tag
The Todd Glass Show Live: You Had to Be There →
It happens to every good podcast eventually. Unfortunately for the Todd Glass Show, "eventually" was Saturday night at Comedy Bar. The live recording didn't record. A technical glitch meant that only the first 20 minutes of the over two-hour show could be salvaged. While this won't do much to ease the pain for listeners, here are a few standout moments that will never see the light of iTunes.
1 tag
1 tag
"I don't have great judgment, but I'm great at judging."
– Marc Maron (JFL: Marc Maron is just peachy)
1 tag
16 tags
Andy Kindler's 2012 State of the Industry Address →
"It's tough to give these speeches justice in print, because both Kindler's style and the vibe of the room are such a specific combination. But it's worth trying. Below is a selection of the (arguably) best moments from his annual skewering of the industry, which Kindler noted he's been doing at Just For Laughs for two decades now."
3 tags
Patton Oswalt Condones Rape for Gay Sushi Chefs →
Transcript of Patton Oswalt's speech at the 2012 Just For Laughs Festival.
1 tag
2 tags
Just for Laughs Montreal: hotel deadline day!
Just a quick PSA to all the industry types, visitors and/or artists who aren't getting their hotels paid for: Today (May 30) is the final day for the cheap rate at the official Just For Laughs hotel, the Hyatt. Rooms start at $179, which is as low as you'll ever get it for during the Festival. Reservations don't require payment in advance, but must be booked through the JFL...
1 tag
Just For Laughs Toronto returns Sept. 21-28
It's been the worst-kept secret in Toronto comedy circles for months, but the details of the resurrected Just For Laughs Toronto edition have finally been made public. After skipping 2011 altogether, "JFL42" will return September 21-28, a shift from its previous mid-July home. Louis C.K. will headline 4 nights at the Sony Centre, as part of a total of 42 "things"...
1 tag
Louis C.K.: Suck a bag of pics
Pop quiz, comedy nerds: You're walking down the street, and you spot Louis C.K. What do you do? (Aside from wet yourself?) The answer: put your phone away. In his second AMA ("Ask Me Anything") session on Reddit, Louis CK today addressed how he deals with his increasing fame, and the one uncomfortable aspect of encountering fans on the street. Original Article
3 tags
Review: This American Life LIVE
It's a very specific audience that breaks into an ovation upon hearing the words "from WBEZ in Chicago…" emanate from a movie screen. That's what This American Life host Ira Glass was faced with when he recited the familiar line at the top of Thursday night's live edition of the popular public radio show, held in New York and beamed via satellite to movie theatres across the U.S., Canada, and...
Muppets, Oswalt to headline 2012 Just For Laughs...
The Just For Laughs Festival has revealed the bulk of the lineup for their 30th edition in Montreal this July (still to come: an official announcement about the newly-ressurected Toronto edition in late September). Original Article
6 tags
30 Rock Live Episode: 5 Differences Between the...
30 Rock aired their second-ever fully-live episode on Thursday night, with the help of a slew of guest stars including Jon Hamm, Donald Glover, Amy Poehler, and Jimmy Fallon. The entire show was performed live twice, once for the eastern timezone and once for the west. The plot was the same on both coasts: the staff debated whether TGS would continue to air live or not, throwing to flashbacks to...
1 tag
Caught Live: Myq Kaplan in Toronto
Original Article
New York: See the Comedy Awards for free
Heads up to anyone in the New York area: Comedy Central's Comedy Awards are coming up fast, and there are two ways you can be at the taping next Saturday evening (April 28) for the low low price of $0. Head over to 1iota's website (they're Comedy Central's audience ticketing service of choice), where you can snag one of 250 free balcony tickets, or sign up to be cast as a...
1 tag
CONTEST: Win tickets to Myq Kaplan April 20 in...
Readers in the Toronto area! Comedian Myq Kaplan is hitting up Comedy Bar this Friday night, and Third Beat has a few pairs of tickets to give away for the 10:30 show. Original Article
10 Things I Learned on the Canadian Fringe Circuit
In my secondary writing life, I penned a stage show about comedy and toured it to festivals the Canadian fringe festival circuit last year. I'll be doing it again this summer, armed with some knowledge that would have thoroughly helped me the first time around. So for those embarking on their first fringe experience, or those thinking about taking the plunge, here are some lessons...
6 tags
6 tags
Chris Hardwick, a TARDIS, and a Tale of Four...
When Chris Hardwick says he appreciates a fan's gift, he means it. Third Beat's recap of Hardwick's visit to Toronto last month mentioned a few of the offerings lavished upon him by fans, including "a homemade TARDIS". Turns out, this particular TARDIS has legs… Original Article
3 tags
Colbert Report: Best Videos of the First 1,000...
The Colbert Report marks its 1,000th episode this week, and Third Beat is celebrating in Colbert-esque big-thinkin' style by recapping 100 of the show's best clips of the past 6 1/2 years. We're looking at the most important and most ridiculous, with and without a point — because nobody says satire always has to have an impact. Say goodbye to your productivity, America. THIS is a...
2 tags
Skype Saves Sklar Show →
Turns out, the American to Canadian exchange rate on Sklars is 50%. The Sklar Brothers were scheduled to play Toronto's Comedy Bar on Saturday night, but the audience for the early show received some bad news from Jason at the top of the evening: Randy was stuck in Minneapolis due to "passport problems". First question: Is this a joke? Nope. Second question: how does one half of a comedy duo...
3 tags
Colbert Addresses Absence Upon Return to Report
Stephen Colbert returned to the set of the Colbert Report Monday after two abruptly-cancelled tapings last week, addressing his real-life family emergency at the top of the show. Original Article
3 tags
Colbert Report suspends production
The Colbert Report has suspended production for at least two nights, for as of yet unknown reasons. Original Article
1 tag
Jim Gaffigan to follow the Louis C.K. model
Back in December, entertainment journalists were all aflutter over what the success of Louis C.K.'s low-price, internet-only standup special means for the industry. Extinction of DVDs? Death of torrents? Nothing apocalyptic has resulted as of yet, unless you count Jim Gaffigan's announcement today that he'll be following in C.K.'s footsteps and releasing his next special...
6 tags
Interview: Chris Hardwick's Special Plan →
Chris Hardwick is a man being pulled in all directions. L.A. to New York. Jimmy Fallon appearance. New York to Toronto. Four shows at Comedy Bar. Toronto to L.A.  Host Talking Dead episode. L.A. to New York. One show at Gotham. Film hour-long Comedy Central special. New York to L.A. That's the 10-day plan that Hardwick is currently in the middle of – more specifically, those four shows at...
2 tags
Louis CK on how pilots are made -- usually. →
Deadline Hollywood reports today that a pilot written by Louis C.K. and Spike Feresten, originally conceived 13 years ago, has been dusted off and picked up by CBS. Fun fact: before C.K. became a certified Huge Effing Deal, he contributed to comedy-related newsgroups on Usenet (remember that, kids?). He offered up info on everything from how to select the right management, to how to edit your own...
2 tags
Andy Kindler: Sunday Night Live
The weekend leading up to Andy Kindler's return as host of Sunday Night Live was in itself a solid sketch premise… Original Article